Fall John Dorgan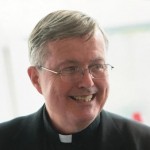 REV. JOHN DORGAN
CLASS 1966, ICTE F'1999
Father John Joseph Dorgan, 78, died October 24. A native of Providence, Rhode Island, he was the son of the late Vincent J. and Virginia B. Dorgan. The Dorgan Family was one of the first families of St. Ann Church in Arlington, Virginia. He graduated from St. Charles Seminary in Catonsville, MD and completed his theology studies at the North American College in Rome during the same years that the Second Vatican Council met there. He was ordained at the Vatican in December 1965.

He began his priestly ministry in Norfolk, residing at Holy Trinity Parish and teaching at Norfolk Catholic High School, later becoming its Principal. He served at these parishes in the Tidewater area: Blessed Sacrament, St Vincent de Paul, Sacred Heart and the Basilica of St. Mary of the Immaculate Conception. At St. Vincent de Paul Church in Newport News, following the lead of the housekeeper who prepared sandwiches for people who came hungry to the back door, he supported this Back Door Ministry: built a shelter, encouraged parishioners to serve and worked in and among those being served. This ministry continues to this day. Similar ministries grew as he moved to Sacred Heart Parish and St. Mary's. With his formation in the atmosphere of the Second Vatican Council, Fr. Dorgan firmly focused on the important role of the laity in the parish. He saw the Universal and the Local Church as the people of God, spreading the care and love of God as modeled by Jesus.

He is survived by his brother Vincent Joseph Dorgan of Hagerstown, MD, his sister, Sr. Virginia Dorgan, RSHM, of New York, and his dear friends Barbara and Eddie Clexton, as well as the thousands of families that he served throughout the region. A funeral Mass will be celebrated at the Basilica of Saint Mary of the Immaculate Conception, 232 Chapel St., Norfolk, Tuesday, October 30 at 12 PM. There will be viewing at the church beginning at 10 AM prior to the Mass. A Christian Wake service will be held in the Norfolk Chapel of H.D. Oliver Funeral Apts. 1501 Colonial Ave. Monday evening at 6:00 P.M.. Burial will be private at a later date and a reception will be held at Sacred Heart Catholic Church, 520 Graydon Ave. Norfolk, following the Mass.

No flowers please. Donations may be made to the Catholic Worker, 1321 W. 38th St., Norfolk, VA 23508. Online condolences may be offered to the family at hdoliver.com.