James Driscoll, OP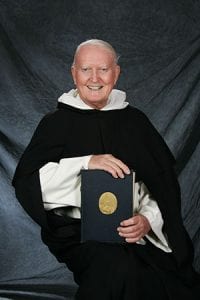 REV. JAMES DRISCOLL
CASA 1972
Rev. James Aloysius Driscoll, O.P. '51, a retired assistant professor of theology who taught and served at Providence College for 40 years, died on November 7, 2013, at Mount St. Rita Health Centre in Cumberland, R.I. He was a Dominican priest for 59 years.
Father Driscoll, who resided at the Priory of St. Thomas Aquinas on campus until shortly before his death, remained an engaged member of the College community after his retirement in 2007. He took walks on campus, attended College and alumni events and athletics contests, and visited former colleagues and friends. He served in many different roles during his lifetime, including as an editor/writer, designer, and advisor to PC's former club football team.
Father Driscoll joined the College faculty to teach religious studies in 1967. He remained on the faculty as an assistant professor of theology until his retirement. He was co-director and director of the Graduate Program in Theology and chair of the undergraduate Department of Theology. He served as a residence hall director and as associate chaplain to the College's ROTC Patriot Battalion.
A native of Columbus, Ohio, he served in the U.S. Army 29th Infantry Division, seeing action at Normandy during World War II. He was honorably discharged as a sergeant in 1946 and then entered the pre-ecclesiastical program at PC. He received an A.B. degree in philosophy in 1951. He later earned his bachelor's and licentiate degrees in sacred theology from the Pontifical Faculty of the Immaculate Conception/Dominican House of Studies in Washington, D.C. He also received a doctorate in sacred theology from the University of St. Thomas (Angelicum) in Rome, Italy.
Ordained a priest on June 12, 1954, at St. Dominic Church in Washington, D.C., he led an active life of teaching and ministry. Before PC, he served at La Salle College, Marist College, and the University of Miami.
Father Driscoll was predeceased by his parents, Frank J. Driscoll and Gertrude (Rodenfels) Driscoll, and his only sibling, U.S. Army Pvt. Thomas R. Driscoll, who was killed in action during World War II.
A Mass of Christian Burial was celebrated in the priory chapel on November 13. Burial was in the Dominican Friars' Cemetery on campus.
Memorial donations may be made to Providence College, Office of Institutional Advancement,
1 Cunningham Square, Providence, R.I. 02918, for the Dominican Scholarship Fund.