Fall Jerome Gerum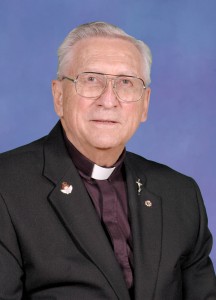 REV. JEROME GERUM
ICTE FALL 1988
Father Jerome G. Gerum , at the age of 91 and a priest for 66 years, died on Tuesday, December 27, 2016 at Atrium Post Acute Care in Marshfield. Jerome Gerum was born on August 20, 1925 in Wisconsin Rapids Wisconsin, to George and Anstasia (Klimek) Gerum. He attended SS. Peter and Paul School in Wisconsin Rapids and St. John School of Theology and Seminary in Collegeville, Minnesota. Father Gerum was ordained on April 16, 1950 at St. Joseph Cathedral in La Crosse by Bishop John P. Treacy.
Father Gerum's first assignment was as Assistant Pastor at St. Mary's Assumption Parish in Durand on April 27, 1950. The following year he was appointed as Assistant Pastor at Holy Trinity Parish and as an Instructor at Aquinas High School, both in La Crosse. In 1954 Father Gerum was appointed as Assistant Pastor at St. Patrick Parish and as an Instructor at Regis High School, both in Eau Claire. He returned to La Crosse in 1956 to serve as the Assistant Director of the Department of Education and as Diocesan Director of the Confraternity of Christian Doctrine. In 1957 he also became an Instructor at Holy Cross Seminary in La Crosse. He was then appointed as Administrator of St. Joachim Parish in Pittsville in 1960.
Father Gerum was given permission by Bishop Treacy to seek a commission as an Armed Forces Chaplain. He served as an Air Force Chaplain from 1963 to 1964, when Bishop Treacy called him back for service in the diocese. On June 30, 1964 he was appointed as Administrator of Sacred Heart Parish in Wauzeka. Father Gerum then served as Pastor of St. Therese Parish in Schofield from 1968 to 1969; St. Rose of Lima Parish in Cadott from 1969-1981; St. Francis of Assisi Parish in Ellsworth from 1981 to 1982 and as Administrator of Our Lady of Perpetual Help Parish in Clayfield from 1981-1982. On September 15, 1982 he was appointed as Pastor of St. Mary Parish in Lyndon Station, where he served until he was granted the status of Senior Priest on November 3, 1995. He served as Parochial Administrator of Sacred Heart Parish in Marshfield and Corpus Christi Parish in Bakerville from 1998 to 1999.
Father Gerum also served as Dean of the Mauston Deanery and on the Presbyteral Council.
Father Gerum is survived by his siblings, Dolores Gerum of Wisconsin Rapids, Donald (Mary) Gerum of Tomahawk and Bernadette Gerum of Wisconsin Rapids. He is also survived by many nieces, nephews and friends and his caregivers Stephana Scholzen, Vicki Esser and Deacon Ray Draeger.
He was preceded in death by his parents; three siblings, Bernice Flammang, Mary Jane Jackan and Georgia Waldherr; and two nephews and two nieces.
The Mass of Christian Burial will be celebrated at Sacred Heart Church in Marshfield on Saturday, December 31, 2016 at 10:30 a.m. Bishop William Patrick Callahan will be the main celebrant. Deacon Ray Draeger will be the homilist. Burial will be in Calvary Cemetery in Wisconsin Rapids.
Visitation will be held at Sacred Heart Church in Marshfield from 4:00 to 8:00 p.m. on Friday, December 30, with a Knights of Columbus Rosary Service at 6:30 p.m. There will also be visitation one hour prior to the Funeral Mass on Saturday.
The Diocese of La Crosse and the family are being assisted by Rembs-Kundinger Funeral Home in Marshfield.