Roger Augustine, V.G.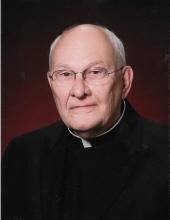 REV. MSGR. ROGER AUGUSTINE
CLASS OF 1960
Rev. Msgr. Roger J. Augustine, 83 years old, of Marcus, IA, died Thursday, September 1, 2016, at Mercy Hospital in Sioux City, IA.
Mass of Christian burial will be 10:30 a.m., Wednesday September 7, 2016 at St. Mary's Catholic Church in Remsen with Bishop R. Walker Nicklass officiating. Concelebrants will be Msgr. Kevin McCoy, Father Brad Pelzel V.G, Father Timothy Schott, Father Richard Remmes, Father Larry McCarthy, Father Clair Boes, Father Tim Friedrichsen, Father Dan Guenther and Father William McCarthy, assisted by the priests of the Diocese of Sioux City. Deacon Rick Roder will also assist. Interment will follow at the St. Mary's Catholic Cemetery in Remsen. Visitation will be any time after 4 p.m. Tuesday, September 6, 2016, there will be a parish rosary at 5 p.m. and a vigil prayer service at 7 p.m. all at St. May's Catholic Church in Remsen. Visitation will resume Wednesday morning from 9:30 until service time at the church. Condolences may be sent online to www.fischfh.com.