Fall Paul Bailey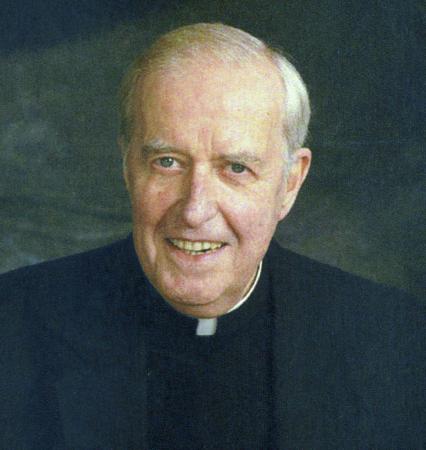 REV. PAUL BAILEY
ICTE F'1996
A Hub native who was raised in St. Anthony of Padua Parish in Allston, Father Paul F. Bailey died in his home in Harwich on Feb. 6, 2019. He was the son of the late Thomas and Gertrude (O'Brien) Bailey. He was born on Jan. 17, 1932, and was educated at St. Anthony Grammar School and Boston College High School, prior to his entering the archdiocesan seminaries at Jamaica Plain (Cardinal O'Connell) and Brighton (St. John).

Archbishop Richard Cushing ordained him to the priesthood at Holy Cross Cathedral on Feb. 3, 1958, and gave him his first assignment as an assistant at Blessed Sacrament, Jamaica Plain. The following year, he was named assistant at St. George, Framingham.

In the fall of 1960, he was assigned to graduate studies in social work at Boston College, living in residence at St. Lawrence Rectory, Brookline. Graduating with a master's degree in social work, he would spend 17 years in various offices of the Catholic Family Counseling Services (Framingham) 1962-1966; and Catholic Charities offices: Cambridge, as director (1966-1967); Lawrence-Haverhill as executive director (1967-1971); and Merrimack Valley Catholic Charities again as executive director (1971-1979). During these various appointments, he lived in residence at St. Theresa of Lisieux, Methuen, and served for a few years as the administrator of St. Ann Home, Methuen.
On Feb. 6, 1979, Humberto Cardinal Medeiros named him pastor of St. Michael Parish in Lowell. He served there for the next 11 years during which time he directed the centennial celebrations of the parish (1983) with multiple celebrations for parishioners, alumni of the parish school; an appearance on the cover of the Boston Catholic Directory and a substantial history of the parish "On the North Bank" by Lowell historian, Brian C. Mitchell.

In June 1990, he moved south to Plymouth when Bernard Cardinal Law named him pastor of St. Peter Parish, where he served until being granted senior priest retirement status on Nov. 1, 2002 when he became senior priest at St. Mary Parish, Plymouth.

Always wanting to keep his mind going, he was granted a sabbatical at the Institute for Continuing Theological Education at Rome's Pontifical North American College in the Fall of 1996.

He retired completely to his home in Harwich in 2015.

Father Bailey's Funeral Mass was celebrated at St. Mary Church, Plymouth, on Feb. 11, 2019. Seán Cardinal O'Malley was the principal celebrant of the Mass and Father Roger Landry was the homilist. Father Landry, a priest of the Fall River Diocese and a regular columnist in The Pilot, grew up in St. Michael Parish in Lowell when Father Bailey was pastor there. Father Bailey's example of priestly zeal and pastoral care of the people of the parish contributed to Father Landry's priestly vocation.

Among those concelebrating Father Bailey's Funeral Mass were Former Auxiliary Bishop John Dooher; archdiocesan vicar of clergy, Father Bryan Parrish; several priests from Plymouth area parishes: Fathers John Graham; John Culloty; and Joseph Raeke.

Following the Funeral Mass, he was buried in St. Joseph Cemetery, Plymouth.